Guest Artist - Alink Kootaishi!
10.22.2015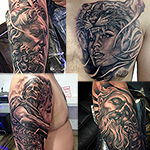 Alink Kootaishi will be tattooing at Darkside from November 25th to December 9th. Alink is here in the US from Indonesia for a few months, and we're very happy to have him tattooing with us. Alink specializes in portraits and realism, you can check out his work on facebook - https://www.facebook.com/alink.kootaishiglory,
instagram @alinkkootaishi,
or TattooNOW
http://www.tattoonow.com/tattoo-artists/alink-kootaishi~5937.
He also has his own site, alinkkootaishi.com. Give us a call to set up your appt with Alink, 203-469-9208!